Current Features
Health Plans
We offer Health Plans for your loved ones ranging from Puppy/ Kitten to Seniors. Our Health Plans cover the core vaccines that your pet would need; Rabies, Distemper, and Bordetella for Dogs. The Puppy and Kittens plans include spay or neuter surgery plus bloodwork and a microchip. Non-core vaccines like Leukemia, Lyme, and Bivalent are discounted.
Adult Plans include core vaccines, annual bloodwork with a complete urinalysis, Electrocardiogaph to check the heart, and fecal testing.
Senior Plans include core vaccines, annual Senior bloodwork with checking the thyroid, Annual bloodwork with a complete urinalysis, x-rays, blood pressure monitoring, and electrocardiograph to check the heart.
Come stop by and ask our staff about our Health Plans and how they will a difference in your pets life.
Interceptor Plus
This chewable tablet helps keep your pet safe from Heartworm and has coverage for intestinal parasites as well. Dogs love the chicken flavor of these tablets so it won't be a chore to give this product monthly.
Credelio
This chewable tablet is a monthly treatment to help prevent fleas and ticks. Dogs love the chicken flavor and it's easy to pick up here at the Clinic. Just ask our staff about these products and what they can do for your pet.

Heartworm Causes
When a mosquito bites a dog with heartworm, it ingests the microfilaria, or baby heartworms, along with the dog's blood. These microfilariae mature over the course of about a week within the mosquito, transforming into a larval form of the heartworm. After the larval form is achieved, the mosquito passes it along to other dogs that it bites.
Without the intermediary step of the mosquito, heartworm disease would not spread. Because of the parasite's reliance on mosquitoes, the disease spreads particularly rapidly during the summertime, when temperatures are warmer.
Coupons
Buy 12 months of Interceptor Plus and 6 months of Credelio and receive a $35 rebate!
Buy 12 months of Interceptor Plus and 12 months of Credelio and receive a $50 rebate!
Show your Military ID and receive a 10% Discount
Laser Therapy Treatment Programs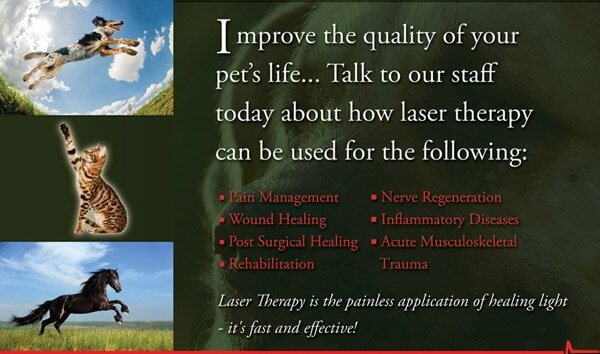 How does laser therapy work?
The laser beam stimulates the cells and tissue to be healthy. It also reduces inflammation so that healing can begin. By reducing inflammation, the laser is also a great tool for helping to minimize the pain of many chronic conditions, like arthritis.
What will my animal feel when receiving the laser treatments?
Laser therapy is a painless application of healing light. Your animal might feel a slight tingling as the light enters the tissue and cells, but it is very minimal if at all.
How long will each treatment take?
The treatment time depends on how chronic the condition is and the depth the laser light needs to reach to be effective. However, almost all treatments will be between two and ten minutes.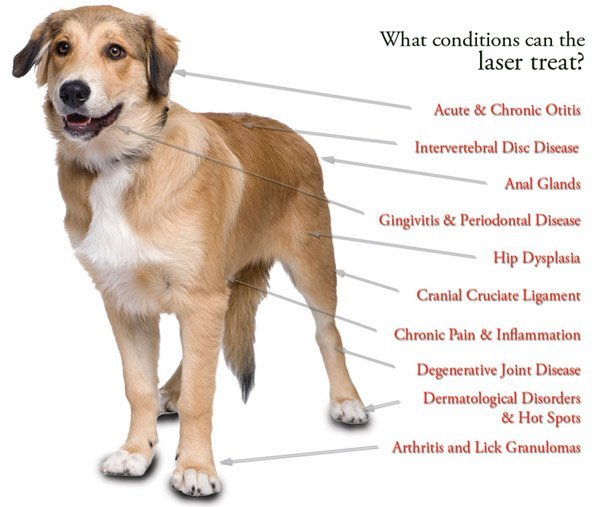 How many treatments will my animal need?
The number of treatments can vary greatly based on the condition, but many pet owners notice a positive difference within three or four treatments.
What are the cost of the treatments?
Talk to your veterinary staff as cost can vary depending on if you purchase a package of multiple treatments, or would prefer to pay per treatment, but treatments are reasonable in cost.
Are the results guaranteed?
We are not able to guarantee the results on every animal. However, laser therapy has been proven to be effective in clinical studies and in rehab settings in both human medical and veterinary medical. There are over thirty years of research which supports the efficacy of this holistic treatment.